Vermeer hay equipment is a top-seller at Weeks Tractor in Natchitoches, Louisiana.  Stop by our dealership to let our professional staff help you with needed equipment, parts, service or finance.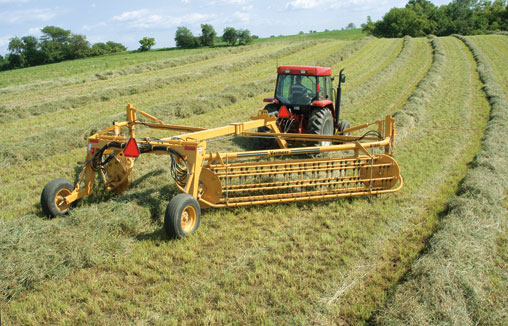 Or contact us by clicking here   
Are you tired of paying high prices for hay? Well, you need Vermeer Hay Equipment. They use modern technology to help you maximize uptime in the field all-year-round. Let's look at some types of equipment available at the dealership:
The BPX9000 is a bale processor that combines simplicity and versatility. It features a direct drive system and cut control bars to allow the bales to feed consistently into the rotor. Also, the unique design produces high-quality feed and reduces hay waste. In terms of durability, the bale processor will stand the test of time. It features a T-style frame with no major welds at high-stress points. Other specifications include:
Comes with 3-double acting hydraulics

Allows for bale capacity of 2500 pounds

Shear bolt torque protection

Right-hand discharge direction

Features roller chains with cross slat
Catapult CPX9000 Bale Processor  
While the CPX9000 throws forage material long distances, the operator chooses where the material is to be thrown. It features hydraulic controls to help you decide the angle of the sprout. Additionally, the bale processor comes with an automatic bale feed system that ensures proper load on the tractor. Another notable feature, the adjustable cut control bar, helps to mitigate tough processing conditions.
R2300 Twin Rake 
Vermeer R2300 is built to help you achieve tightly rolled bales without compromising on quality. Even if you're baling hundreds of acres, this model keeps running. Because the R2300 comes with a box-style windrow, you can be sure you'll produce cleaner bales. Plus, the twin rake allows the user to adjust the width to match the baler.
To ensure the tines don't engage the ground, this equipment comes with rubber-mounted rake teeth. Also, the caster type wheels help to glide over uneven terrain. But what makes this machine stack up above the competition is the basket speed control. This model has a thoughtful design for speed, so you can get in and out of the field quicker. Other features include:
Allows for 18-23 raking width

Comes with two double-acting hydraulics

Features 6 bars/baskets

The maximum speed is 10mp
Benefits of shopping Veneer equipment locally
Personal service

 The local dealer will go the extra mile to meet your needs. Therefore, you can choose from a complete line of hay equipment to suit your agricultural needs. Also, this is a chance to build a personal relationship. And with the warranty restrictions put by the manufacturers, the dealer can make things easier.
Convenience

When you shop from a local dealer, you can access after-sales service in a short drive. This saves on fuel costs. You can also make arrangements for a technician to visit your farm for service. 
Support your local economy

Equipment dealerships are an integral part of their communities. Since the money you spend in the dealership stays within the community, you improve the local economy.
Vermeer Hay Equipment is always a top choice for farmers and ranchers around the world. 
Feel free to contact us by clicking here