Weeks Tractor is your RhinoAg attachments dealer in the Natchitoches, LA area. Also, as a leader in the agricultural equipment industry, Rhino offers a huge line up of attachment choices. Additionally, Weeks Tractor's professional sales, service and parts staff is always knowledgeable and ready to assist.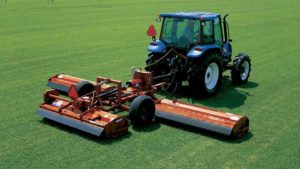 Ready for new equipment?
Call Weeks Tractor today at: (318) 239-1497 
RhinoAg attachments are designed to tackle the toughest tasks with minimal breakdowns. There's a wide range of equipment including rotary cutters, finish mowers, tractor-mounted rotary cutters, landscape rakes, and boom cutters. Read on below, here are some of the various types of equipment available at RhinoAg Attachments Dealer.
Boom mowers
Boom mowers have a design for hard-to-reach cutting applications. They are mechanically driven and can cut debris up to 2" in diameter. Besides, the blade has protection from wear by the slip-clutch system. Whereas, if you have fence rows that need clearing, this is the best mower for the job. An example of the RhinoAg boom mower model is the DB150. The main specifications include:
A 60-gallon hydraulic system

The cutter head operates at 85-90 degree angle

Can reach up to 13 feet
Landscape rakes
RhinoAg landscape rakes are perfectly set up for light-duty applications. Thus, they can be useful on golf courses and other run-off projects. Even, some come with dual gauge wheels to give a consistent finish on uneven terrain. Plus, the LLR series comes with 5/16" teeth and can work in forward/reverse direction. Also, the teeth can be repaired individually. If you want to work on bigger raking jobs, Rhino offers an optional 11/4" kit.
Tillers
The SRT light-duty model comes with features to ensure unparalleled performance. Additionally, it can be used for gardening and general landscaping. Therefore, keep in mind that SRT tillers can be used in tractors with 10-50 HP. Each tiller comes with a heavy-duty chair rotor drive system to ensure maximum durability. Other features include:
CAT-1 quick hitch

Rotor speed of 240 RPM

Variable rear deflector

Chain drive
If you don't fancy the SRT model, you can use SRM heavy-duty tillers. They are suitable for heavy-duty agricultural use. Moreover, they feature 81-91 widths and come with a variable speed gearbox. And just like other high-end tillers, you can use this model in tractors with 40-70HP. The SRM model is suitable for tilling vineyards and vegetable farms.

Crop-driven rakes
If you're producing hay for a large ranch, a RhinoAg rake is what you need.
The VR hay rake comes with an independent suspension system and allows for simple adjustments for a clean sweep. It's available for 8, 10, or 12-wheel configurations. And because it folds horizontally, you can carry it easily to the working area.
The RDF series allows you to rake large fields quickly. It features a working width ranging from 25-30' and has out-front independent wheels for unobstructed hay flow. For flexibility in operations, the rake arms are adjustable. RDF rake comes with a single-side opening kit, hydraulic dual-center wheel kit, and rear tandem wheel kit.
Single deck mower
The FA series mower guarantees an even cut, every time. It features a sloped discharge area for even distribution of cut material. What's more, the built-in baffles control the flow of materials. Another notable feature is the durable ABS safety shield. It provides outstanding structural integrity and allows for convenient height adjustment.
RhinoAg Attachments with a design to tackle whatever you throw at them. Make sure you understand the specs and the application they suit best before you make your investment decision.
Your RhinoAg Attachments Dealer in Natchitoches, LA –