At Weeks Tractor, Mahindra tractor attachments are the equipment to make your tractor work for you. As you'll see, high quality implements allow for the highest production and efficiency. Mahindra does landscaping, agriculture and construction – just know that you'll experience fewer breakdowns with quality Mahindra tractor attachments. Additionally, Weeks Tractor has professionals in all departments: Finance, Service and Parts.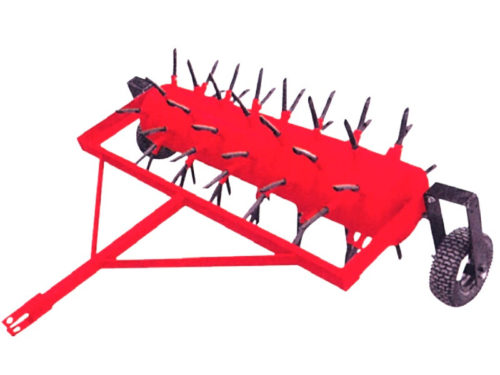 Mahindra implements extend the functionality of your tractor to get the job done. They are easy to install and help to maximize your versatility. Whether it's moving materials or digging trenches, these machines will help you transform your land. Here are some of the various types of Mahindra tractor attachments at the dealership:
Heavy Duty Landscape Rakes

Land Levelers

Core Plug Aerators

Post Hole Diggers

Aerators
Heavy Duty Landscape Rakes
Mahindra attachments have a design to handle all aspects of landscaping. They feature various angle positions, so you can get tools for grading, smoothing, raking, and compacting. What's more, they come with heavy tubular steel construction and have multiple position angle settings. You'll also find optional wheel kits to maintain the right grading depth. The models available at the dealership include KLRHD4, D5, D6, D7, and D8.
Land Levelers
These attachments are built to do tough jobs. Depending on your farm needs, you can find different equipment ranging from 6-20 feet. There are three different models: KLL60, KLL72, and KLL84. The main features include:
Quick hitch compatible

3/8 by 6 reversible cutting edge

Replaceable steel double-sided cutting edge
Core Plug Aerators
The aerator features a spring assist design and patented pivoting to ensure it enters the ground at a better angle. Also, it comes with a 12" diameter drum which can be filled with sand or water. Plus, the axle is made of steel which ensures the pillow block bearings stand the test of time. It's worth mentioning, that the tines move slowly for easier soil penetration. The models at the dealership include:
KAPDW (3612, 4812, 6012, 7212, and 8412)

KPL3PT (36, 48, 60, 72, 84, and 96)
Post Hole Diggers
If you want to build a fence, post hole diggers can make your job less tiresome. These attachments are also suitable for other digging activities like installing trees and building decks. Plus, they feature a replaceable cutting steel edge and a rugged gearbox with a 2" diameter output box. Some come with a safety lock/shear bolt protection to ensure the power doesn't trigger when you don't intend to. The models available at the dealership are KPHDNOAUG, KPHD6AO, KPHD12AO, and KPHD9AO. These implements work with an auger to ensure you place holes where you want.
Aerators
Aerators have a design to help air, water, and fertilizers to reach the plant roots. While most people use simple tools with a handle and tines, this can be tiring if you're working on a large farm. Plus, aerator implements come in different styles to meet your tilling needs. And the best thing is that they do less damage to the existing plants. You should make sure you match the aerators to the power of the Mahindra tractor. 
Having the right attachment for the job can make your work more efficient. 
Use your tractor to its full potential –
Use Mahindra Tractor Attachments