A commercial mower dealer should feel like part of your team, when you own a professional lawn care business. At Weeks Tractor, we want to be part of your professional team, offering top-notch equipment with excellent customer service in sales, service, parts and finance. 
One of the best investments, a commercial lawn mower, will help make your work easier. From experience, you know that for you to do your best work, your equipment must work hard. The best models feature an industry-leading design with innovative steering for consistent cuts.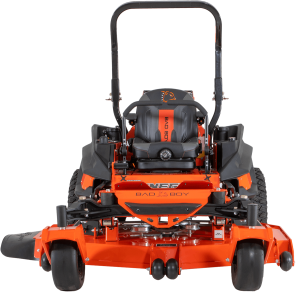 OR VISIT:  Weeks Tractor   at: 1790 Hwy 3175 Natchitoches, LA 71457
Here's a quick guide to some of the various types of equipment available at the local commercial mower dealer.
Bad Boy Diesel Renegade
This model has a design to deliver outstanding performance and packs a combination of cutting-edge innovation and durability. It features a 1100cc diesel engine that delivers 24.7HP. Other features are:
3-Link Rear Trailing Arm Suspension
Bad Boy Renegade is the first mower of its kind to have a 3-Link rear trailing suspension system. It provides a smooth ride and gives better hillside stability. In addition, it comes with a premium suspension seat that guarantees all-day comfort in any terrain.
This mower features a heavy-gauge steel frame to ensure durability. Furthermore, it has a dual pump belt system that distributes the load between the deck belt and pump drives.
Patent Dual Deck Support Isolators
The deck is reinforced with 3/8" sides and works with a deck idler arm and spring for consistent cutting speed.

Bad Boy Outlaw Rogue
The Bad Boy Outlaw Rogue has a design to deliver more cutting power. It features a stainless steel 1.5" X 3" frame, a deck wear pad, and deck support isolators to minimize side impacts. Also, the mower comes with a deck-lit system to help you achieve the perfect cutting height. Other keys specs are:
This model power is by a 933cc air-cooled engine that delivers a 37HP. It's pairing with a hydro-gear 16cc pump transmission system.
The mower comes with ¼-inch decks that allow the chamber to stand more naturally and in an upright position. Equally important, the spindles are made of ductile iron that lasts 60 longer than aluminum housing.
The mower features a 3-link trailing system that provides a smoother ride and better hillside stability. You also get a high-back seat for optimal support and comfort.
In conclusion, the Bad Boy Outlaw Rogue mower gives a perfect balance of power and performance.
Bad Boy Outlaw Rebel
While Bad Boy Outlaw Rebel shares the same performance features with comparable models, it offers better-integrated drive systems. This is what makes it a favorite among large landowners. It also features a Kohler command 747 cc engine that delivers 27HP.
To ensure high performance, this model comes with a hydro-gear integrated drive system. Additionally, you get three deck sizes that suit most lawn applications.
In summary, the Outlaw Rebel is the ultimate mowing solution for large properties with varying terrain.
Lawn Care Professionals Know the Best Commercial Mower Dealer in Natchitoches LA
OR VISIT:  1790 Hwy 3175 Natchitoches, LA 71457