For top quality ag equipment – repair & service around Natchitoches LA you won't beat Weeks Tractor! You can count on our tremendous, professional staff to help with your next purchase of equipment or parts. Additionally, our top-notch repair & service department will get your equipment back to work quickly and efficiently.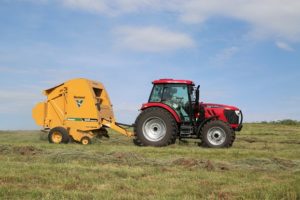 Many folks around the Natchitoches, LA area are farmers, landscapers, contractors who rely on equipment to improve their productivity. Nowadays, there are many styles of new equipment available in the market that can make your tough work more efficient and productive. Here are some at your nearest ag equipment dealer:
Seeders

Bale Processors

Disc Mowers

Fertilizer Spreaders
Seeders
Seeders provide an even distribution of seeds into the field, so as to ensure efficient growth of seedlings into strong and healthy plants. This equipment can provide you an efficient seeding operation, with or without any tilling.
For farmers, a trustworthy seeder you can find at your ag equipment dealership is one of the most useful pieces of equipment around. It can be used to spread both large and small diameter seeds in either mount or trailer arrangements. Plus, there are models for various applications including:
Conventional

Zero-till

Minimum-till
Bale Processors
These machines are typically useful to unroll both round and square bales of hay into windrows, so as to make it easier for livestock to feed on them. With it, you can easily change the feeding location of your animals, instead of just putting them where the bales are collected for convenience. This ultimately promotes a better open-range feeding environment, thus minimizing issues with the handling of manure. Hay equipment is a necessity for most ag businesses.
Bale processors are an apparatus with a design to blow away debris such as dust and mold from your bale during processing and also produces consistent feed throughout.
Disc Mowers
Disc mowers are powerful machines that can cut foliage material under almost any conditions. Most of them have an oval design which offers knife-overlap, while also allowing sliced crops to move efficiently along the mower.
Furthermore, they have adjustable swath plates that can be modified to provide a much narrower swath. Or perhaps, one that's as broad as the cut's width. This can be useful when foliage moisture-content is higher, such as during harvest time.
Fertilizer Spreaders
Fertilizer spreaders are useful to distribute fertilizer evenly across the farm, so as to ensure the seedlings get enough nutrients and nourishment to grow into strong and healthy plants. Nowadays, most of them are also fitted with automated GPS control which helps to reduce fertilizer costs by determining how much is needed to cover the entire farm. It doesn't matter whether you want to use the spreader for your orchard, vineyard or vegetable crop fertilizer applications, you can easily find a model that suits your needs.
At Weeks Tractor, our goal is to be 
the best Ag Equipment Dealer – Repair & Service!
OR VISIT OUR DEALERSHIP AT:
1790 HWY 1375,  Natchitoches, LA 71457