Tractor implements & attachments allow for maximizing the efficiency and productivity of your tractor. At Weeks Tractor in Natchitoches, TX, we have a huge choice of implements for your Mahindra tractor. As a matter of fact, you'll work smarter and increase your productivity with the addition of tractor implements & attachments to match the job at hand.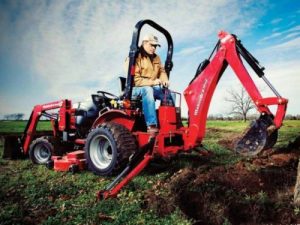 We know you need to get your work done and that's why we offer many specific additions to help! 
Here are some of the many Tractor Implements & Attachments:
Aerators

Auger

Backhoe Loader

Compactor

Cutter

Landscape

Mower

Scrapers

Snow Blower

Spreaders

Tillage
With five various Series of backhoe loaders, Mahindra attachments allow you to work smarter, not harder! With this in mind, you'll find it's useful for all sorts of dirt work such as spreading, lifting, grabbing and even spreading. Consequently, a backhoe loader is a versatile machine which allows for purposeful work on your project. 
Landscaping work requires many different types of equipment. Even more, whether you're compacting or smoothing or even digging post holes, there is an attachment to make the job quicker and easier: 
Heavy Duty Blades

Heavy Duty Landscape Rakes

Land Levelers

Landscape Blades

Slider Blades
With easy to bolt on attachment, these snow blowers make fast work of grounds maintenance even during the harsh conditions of winter. Needless to say, these hard working machines can go through any amount of snow. 
All these attachments add so much more to your tractor. Adding options to your equipment will definitely make your machine work even harder for you. Above all, with specific add-ons, the current tractor you own can do more to make your job easier! With all of these benefits, you will definitely do more with your tractor. Talk to us to learn more about Mahindra implements.
When You Need Tractor Implements & Attachments in Natchitoches, LA – We Can Help!