Cub Cadet zero turn mowers are best known for their speed, strength and comfortable ride. Additionally, the cutting quality is absolutely above the rest.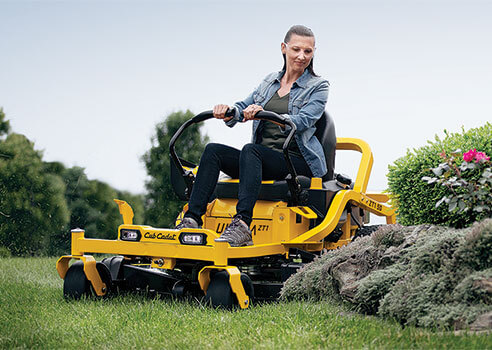 Cub Cadet See The Difference!
Truly, to really see the Cub Cadet difference you'll want to come on into Weeks Tractor in Natchitoches TX. The selection includes both new and pre-owned models. Read on below for some information about how zero turn works and its benefits.
Be sure to visit Weeks Tractor when it's time to upgrade your mower. Our knowledgeable staff is available to help. Having experts in all areas, Weeks service, parts and finance departments are ready to assist.
Cub Cadet zero turn is a lawn mower with a design to meet the demands of the residential market. Cub Cadet, under this category, is first to feature zero-turn technology. It provides hillside stability for users, fast turning as well as better control.
 How does zero turn work?
 The machine has a pair of levers which attach to motors on the rear wheels that provide thrust. Pushing the steering forward causes these levers to move forward also, while pulling them backwards causes a reverse action. Typically, the farther you push the lever in whichever direction, the faster your machine goes and vice versa.
 To move right, you simply push the left-handle down towards the right handle, and the opposite also applies if you want to swerve left. Similarly, you can make a swinging turn by pushing the correct handle forward while setting the other one in a neutral position. This will cause the zero-turn mower to rotate around the stationery wheel as required.
 Additionally, you can also rotate the machine by moving one lever forward and pushing the other backward with equal force. This way you'll be pivoting the equipment around the central axis, right between the two driving wheels.
This zero-turn mower is appropriate for use in both large-scale/industrial applications, and at home for your lawn.
Benefits of the Cub Cadet zero turn mower:
  It's simple to control and easy to maneuver due to the direction levers.
The zero-turn feature allows you to easily cut around objects such as bushes and flower beds that may be in your way. This means you won't have to use more effort trimming them with a weed whacker.

Can cut back mowing time by up to a half of a traditional mower.
 Generally, there are various factors that determine which type of cub cadet zero-turn mower is appropriate to use, such as the amount of floral features and concentration of obstacles found in your lawn. Additionally, another thing to consider is the machine's cutting deck width, when it's too wide then you may have trouble squeezing it into the little nooks and crannies in your lawn, but also when it's too narrow you won't be saving time when mowing your lawn.
 These zero-turn mowers also have other options such as cruise control and attachments that are fit on them to improve their functionality. Therefore, carefully consider the features before picking any for use. Basically, the Cub Cadet Zero Turn can save you a lot of time and energy when mowing.
Cub Cadet zero turn mowers –
When you want speed and comfort to get your mowing done fast!
Visit: 1790 Hwy 3175  Natchitoches, LA 71457